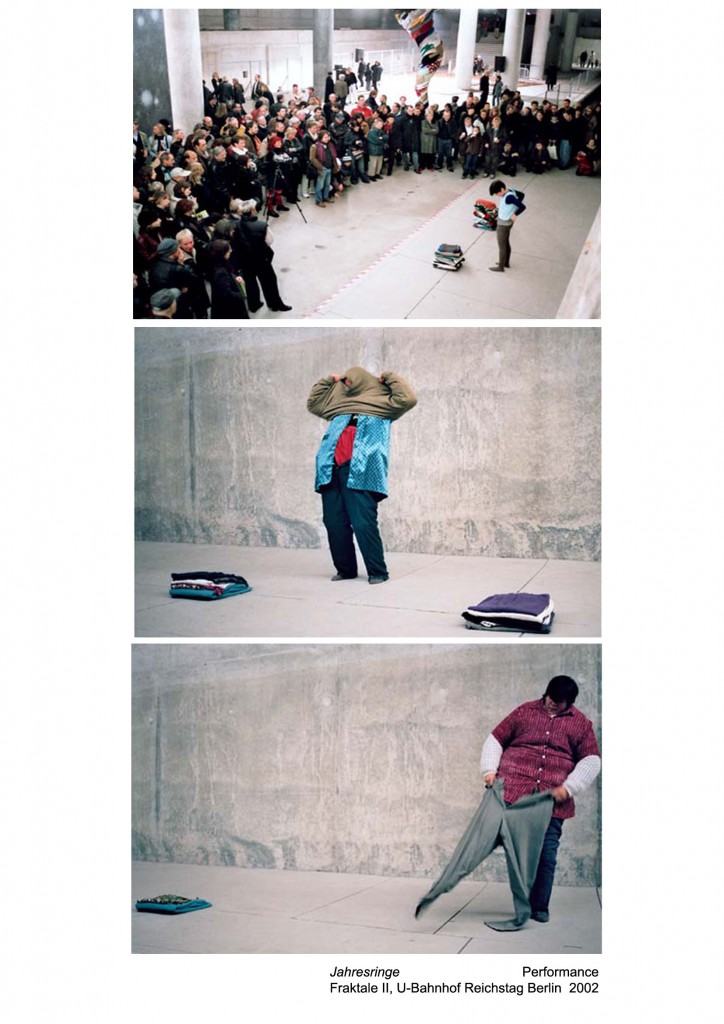 Jahresringe zeigt den Prozeß einer Veränderung des körperlichen Erscheinungsbildes. Durch Übereinanderziehen von Kleidungsstücken wird eine rasante Gewichtszunahme simuliert.
Umfang und Volumen nehmen mit jeder Schicht zu, was in Akkordeonklängen aufgegriffen und fortgeführt wird.
Der in seinen Ausmaßen unverändert gebliebene Körper im "Kern" reagiert mit Kurzatmigkeit und Schweißbildung auf die zunehmender Beeinträchtigung der Beweglichkeit. Im Verlauf der facettenreichen Wandlung werden Fragen an das gesellschaftlich vermittelte Idealbild des menschlichen Körpers und eigene Erfahrungen von Körperlichkeit berührt.
Growth Rings shows the process of change in the appearence of the human body. By putting on pieces of clothing, one on top of another, layer upon layer, Growth Rings simulates the accumulation of weight at an accelarated rate. The circumference and volume of the body grows with each layer of cloth, mirrored in the sound of an accordion playing. As layers of accordion music build the body reacts to the weight of layers ot cloth with shortening of breath, sweating and ruduced mobility. Growth Rings provokes a variety of questions about societies ideal body image as it touches our memory of our own body experiences.